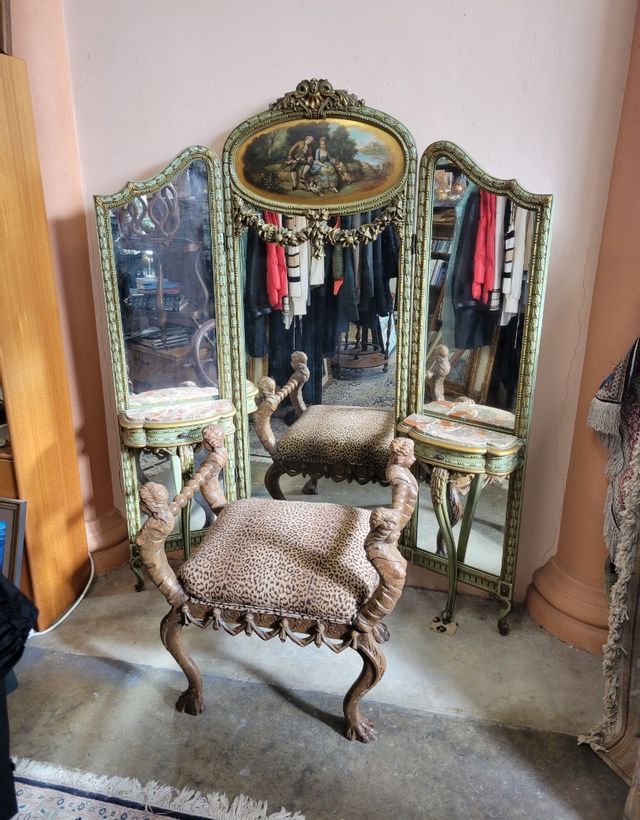 Description
New Arrivals
@
Schiff's Estate Sale Building
Art, Furniture & Collectibles...
Antique Triple Cheval Dressing Mirror, Antique Aquarium, Mid Century Modern Turnidge of London Cabinets, Peter Wright; English Anvil w/ Stand, Step Tansu Chest, Apothecary Chest, Display Cabinets, Console Table, Primitive Hand Painted Storage Bench and Tack Rack, Spinning Wheel, Apple Cider Press, Antique Book Press, Globe Bar Cart, Decorative Mirrors, Hand Painted Screens / Room Dividers, Hand Made Rugs from India & Pakistan, Folding Picnic Table, Asian Carved Wood Panels, Italian Chiavari Chairs, Carved Bench, Hand Painted Dresser, Ice Cream Chairs, Carved Chair, Driftwood Lamp, MCM Folding Chairs, Chrome Bar Seats, Pedestals, Vintage Metal Shelf & Cabinet.
Open Monday, Martin Luther King, Jr. Day.
1309 Del Paso Blvd Sacramento, 95815
916-923-1443
Hours:
Now Open Daily
11:00am - 3:00pm
Back Room Blowout Sale
75% OFF
in the
Back Room
Also Don't Forget To Check Out Our Growing Garden
Fun, Cool & Eclectic Items...
Come See For Yourself All the Fun, Cool & Eclectic Items That We Have...
Our Staff is Fully Vaccinated and We Have Had Our Boosters.
If You Are Sick or Not Feeling Well, Please Stay Home.
***If You See Something from The Shop
That You Would Like to Purchase
Text or Call Danyelle 916-220-3627
We Will Hold It For You Upon Payment***
*California Sales Tax Charged on All Items Unless You Have a Valid Resale Seller's Permit*
*Our Credit Card Company Charges 4% on All Purchases Using a Credit or Debit Card
Make Sure to Follow Us on Social Media
Schiff's Estate Sale Services & Building
1309 Del Paso Blvd, Sacramento, CA 95815
11:00 AM PST
to 3:00 PM PST